Image from here
Without sounding like a 'typical Chinese girl' I LOVE HELLO KITTY! Waaayyy back last year Stephie gave me the head's up on the MAC x Hello Kitty collab, and now the wait is almost over with only 4 days until the MAC online launch and 6 days until it is in store. Well, in the USA anyway. As usual, we Brits, have to wait that much longer...one month in fact (early March *Grrr*). I will definitely be eyeing up prices and making a wish list from the online store in preparation, and I am particularly looking forward to the S&M style Hello Kitty plush (Ooo saucy) and some HK make up brushes...FUN!! And, maybe some of the more affordable Hello Kitty Colour Collection - ahem...the $11 nail varnish's, over the much pricier Hello Kitty Kouture (for the avid HK collector *one can dream*).

I seriously cannot miss this, especially as I totally missed the Fafi Girls x MAC launch last year (what a f-ing shame). I truly deeply love the Fafinettes, and LUCKILY whilst in NY last year whilst strolling around a MAC store I did find 2 of the 3 released Fafi character dolls! Here they are amongst SOME of the other toys I collect (and YES that is a Hello Kitty Castle still in its original packaging in the background!):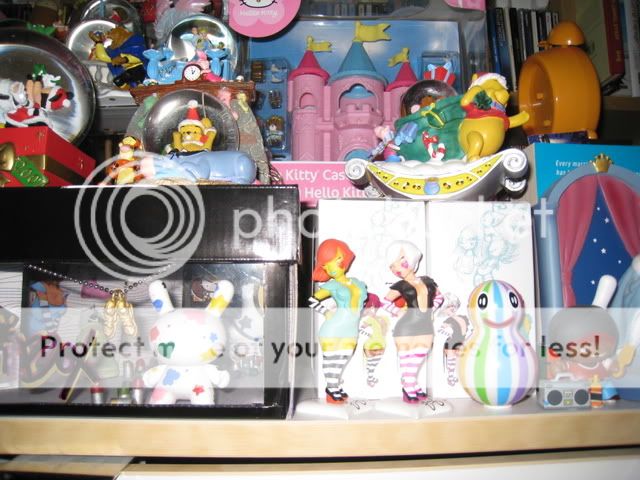 Oh and look what some lucky bloggers got at the private bloggers HK x MAC event back in November:


Images from here
Envious? Me..?